Software and Hardware
properties
Omni-Vectron POS?
Founded in 1990, Vectron Systems AG is a German software and hardware company specializing in the production of smart POS systems. Vectron POS System is a secure design point of sale terminal suitable for food and beverage establishments, such as restaurants, fast-food, pastry shops, coffee chains, clubs, associations, school canteens etc., as well as chain food enterprises of all sizes.
The cashier/waiter opens an account and sends the orders to the kitchen, accurately, quickly and preciselyand thanks to this automation providing the business to be controlled.Cashier/waitercannot delete any order information when logged in with theVectron user key and Vectron provides a platform to avoid all conscious/unconscious leaks due to the inability to delete orders.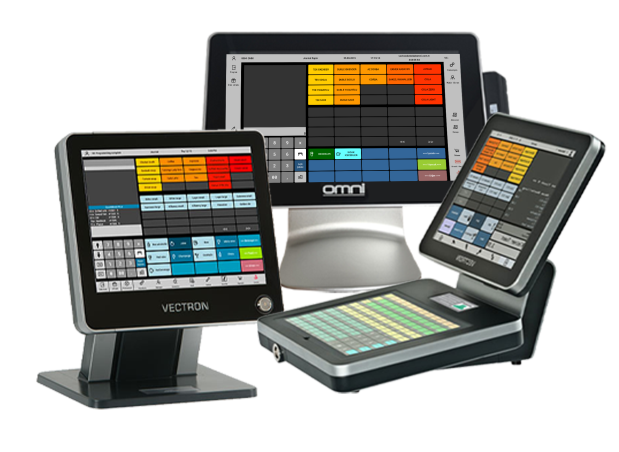 SOFTWARE AND HARDWARE PROPERTIES
Hardware and software manufactured with German technology
Advantage of using multiple hardware with one software in the same business
Integrated and PC based system options
Smart Terminal: Stand-alone feature
12 ", 14" and 15 "screen options according to color, touch and terminal type
Up to 200 terminals in the same facility
Login to the system with smart user key and use of all kinds of functions according to authorization levels
Printing information of sales products (Content, Recipe, Calorie account etc.) to the screen, kitchen printer or billing
Entering an order by seat number or name
Promotions, HappyHour etc. automatically changing product prices in desired time zones
Open multiple checks simultaneously in FastFood applications when needed
Time / Day / Month / Year and Personnel, Menu Item, Revenue etc. all kinds of detailed reports
Specially produced for the restaurant industry, waterproof, durable special hardware
Package system and customer tracking modules
VCommander Central Management Module for chain stores, with a very powerful, open database, managing unlimited stores
Quantity based / grammaged stock module
Database structure open to any brand of back office integration
Integration with back office programs such as stock control and accounting
Integration with the Customer Loyalty System
Scale / Barcode Reader integration
USB Online BackUp "Instant Auto Backup" in Terminals
Suitable for table service and fast service
With the "press the same step again" feature, the addition is suitable for mandatory businesses
Personnel Entry-Exit Control